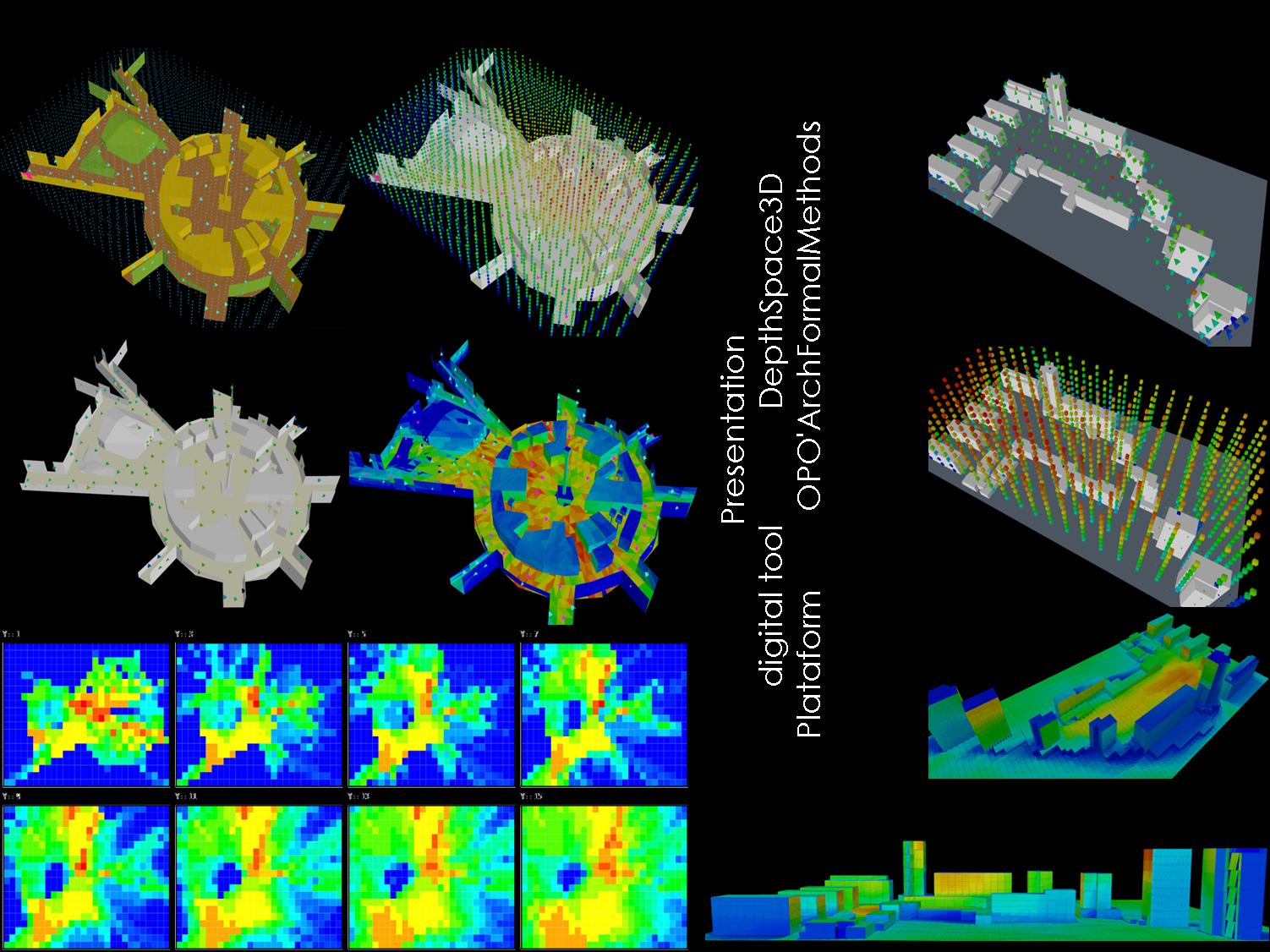 3D Space Syntax Analysis
Franklim Morais (ESAP)
Catarina Ruivo (Dinamia'CET - ISCTE)
Space Syntax are a set of methods in use in Architecture for over 30 years. As it requires a large amount of calculations, it needed to be treated by ICT tools. So far, only 2D analysis was currently available.

The workshop will give proficiency in the use of DepthSpace3D, a 3D Space Syntax analysis software, free for academic use. This digital tool increases the range of possibilities concerning 3D Space Syntax analysis.

3D analysis seems to bring better results in rough topography of the urban spaces; dynamic volumetric geometry: size, configuration, elevation and interpenetration; joint analysis of the interior of each building and its urban environment, in particular when there are high-rise buildings.

3D Space Syntax analysis may also be a powerful tool in formalizing the classical theoretical and aesthetical concepts of space in landscape architecture.
The participants will produce small 3D models of buildings and public spaces, analyse them with space syntax 3D software e understand the uses of the outcomes of the analysis.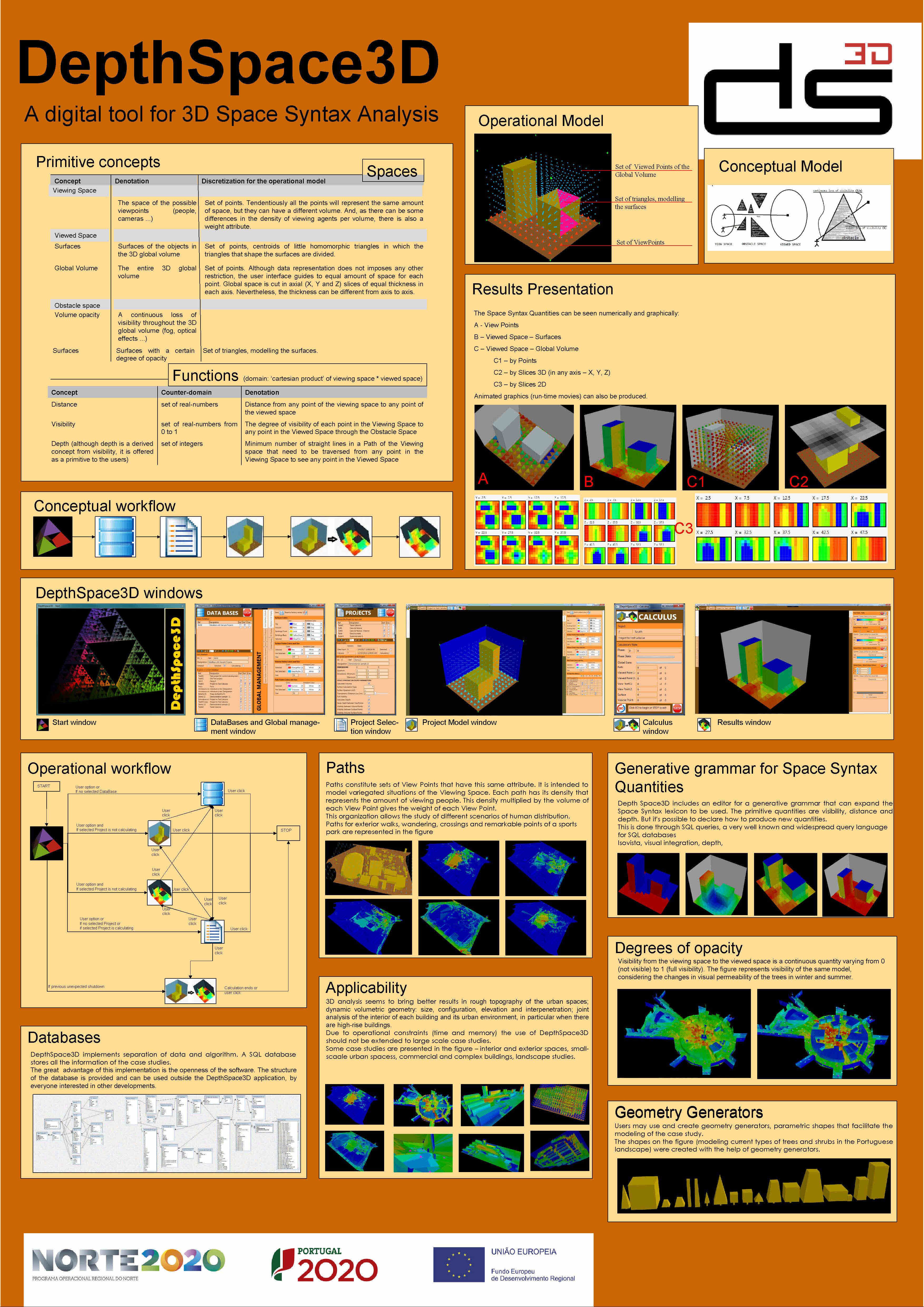 In case of difficulty, software installation may be done in the beginning of the workshop.
Brief introduction to the main differences between 2D and 3D analysis
DepthSpace3D
With the help of small case studies, each participant will carry out:

Creation and edition of the 3D geometries of the spaces considered for analysis.

Viewing Space (with multiple Paths, with different visibility weights)
Viewed Space (two-sided Surfaces and Global Volume), also with different visibility weights, and with the possibility to introduce properties or attributes to different regions of the space
Obstacle Space, with different transparencies and opacities

Calculus of Space Syntax Quantities
Display of the results, both in graphical and numerical forms

3D of the Viewed Surfaces
3D of any slice of the Viewed Global Space
2D of all the slices of the Viewed Global Space
3D of the View Points

Interpretation of the results
Some examples in middle-level operations:

changing the user interface
creating new items in the geometry generator library

Finally, brief introduction to advanced themes:

editing a generative grammar for the 'Space Syntaxes'. With this tool, the study is not limited to the standard concepts (depth, isovist, connectivity, etc.) as the generation of new concepts can be formalized.
accessing the open Data Base with all the data (inputs and results) of the analysed cases;

Glimpses of future SCAVATools software

The tutors will bring to the workshop:
Laptop.
USB pens with software installation.

The participants are expected to:
Bring their own laptops (OS Windows only);
DepthSpace3D installed in the laptop (http://depthspace3d.cyberoikos.com/pages/p021.aspx);
a 3D COTS CAD software (Revit, ArchiCAD, Rhino, SketchUp,...)